The classic vampire MMORPG Darkeden has been revived by Ignited Games
Ignited Games
has resurrected the world's first vampire
MMORPG
DarkEden
.
The players can choose their side and join the battle for Eslania.
Ignited Games is celebrating some special events to celebrate the game's launch and the holiday season:
A Warrior's Welcome
- Online gamers that join the battle before Wednesday, Jan. 11, 2012 will receive a starter pack that includes stat-boosting items tailored to their character class and will help new players hit the ground running when they embark on their journey.
Reign in Rudolph
- Rudolph has run off to Eslania with a bag of Christmas gifts. Players who catch him will receive a Christmas gift box from the bag, containing a random item that grants a stat buff or experience point bonus.
Bible War Promotion
- To sweeten the deal for players engaging in DarkEden's Bible War events, Ignited Games is providing incentives, including in-game experience buffs and real-world
giveaways
that get bigger and better as more players participate, ranging from Logitech gaming gear to Apple iPads.
Christmas Stocking Hunt
- Monsters throughout Eslania have stolen pieces of Christmas stockings. Through Dec. 26, players can collect the pieces from their vanquished foes. Once these brave warriors collect all nine pieces, they can re-assemble the stocking in their inventory to receive a gift box containing a random item, including stat bonuses, in-game supplies and other premium items from the game's item shop.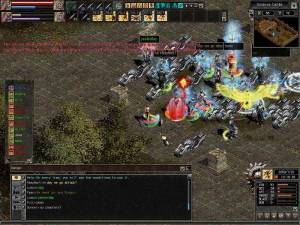 "
DarkEden offers online gamers a nostalgic journey to the classic era of MMORPGs,
" said Peter Kang, CEO of Ignited Games. "
The game's macabre setting invites fans of vampire-centric movies and lore to experience the style of gameplay that launched an entire genre of online gaming.
"
---