League of Legends has announced its Season Two World Championship
Riot Games
has announced the biggest
League of LegendsWorld Championship
to the date,
The Season 2 Wolrd Championship will conclude the next October 13, in Los Angeles.
The prize pool for the World Championship and Regional Finals is the biggest in eSports history, $3,000,000, and the most lucrative piece of the unprecedented $5,000,000 total prize pool for the entirety of Season 2.
The next phase of the World Championship will be a series of regional championships to determine the twelve teams which will compete in the World Championship.
-
North America
: August 31 - Seattle, United States at PAX Prime - 3 teams
-
Europe
: August 16 - Cologne, Germany at Gamescom - 3 teams
-
Mainland China
: July 26 - Shanghai, China at China Joy - 2 teams
-
Southeast Asia
: September - Singapore at Garena Carnival - 1 team
-
Korea
: September 21 - Seoul, Korea at the OGN eSports Stadium - 2 teams
-
Taiwan/Hong Kong/Macau
: September 22 - Taipei, Taiwan at G1 - 1 team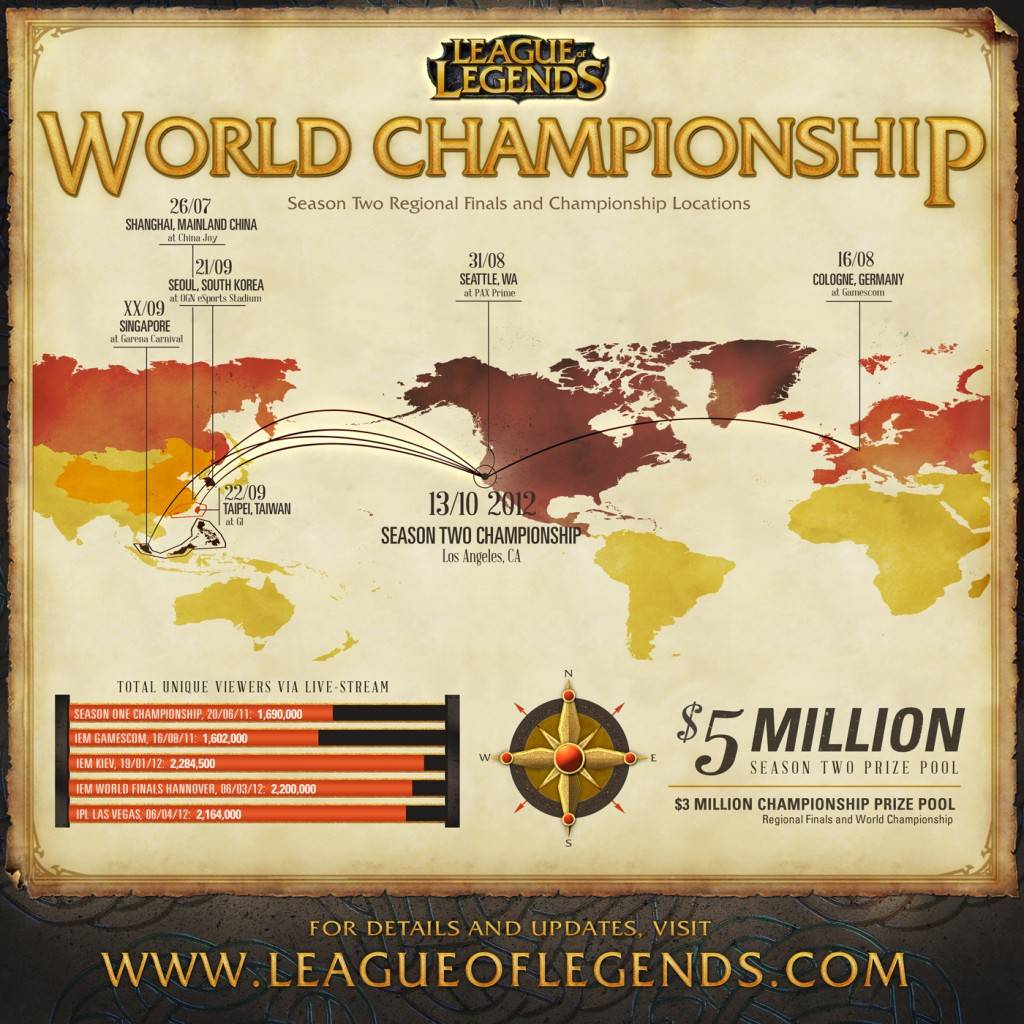 "
I can't wait to see how many fans tune in online for the final matches of Season 2 – we're halfway through the season and we've already seen more than two million live viewers for a single circuit event,
" said Marc Merrill, co-founder and president of Riot Games. "
Just to put that in context, that's a bigger audience than a Major League Baseball game on ESPN – it's incredible to think about.
"
"
We've already awarded more than $1,000,000 in prize money to the incredible competitors of League of Legends this season,
" said Brandon Beck, co-founder and CEO of Riot Games. "
It's been humbling to watch the level of competition and the enthusiasm of the live audiences – it's something you really have to see in person.
"
---