Innogames has unveiled further information of Lagoonia
InnoGames
has revealed further details of its new browser game
Lagoonia
.
The focus of the game its on the relationships between the characters and the players. Moreover, players plan and create many things that make the island more confortable.
The game sets the scene by stranding the initial character on a remote South Sea island as the survivor of a plane crash. The player must begin securing his or her survival by farming, fishing, and building useful tools. Luckily, this character is not alone. Soon a bottle washes ashore from another survivor, who later joins the island. After this scenario takes place several times, the island is populated and characters develop feuds, friendships, family ties, and love. The player's task is to recognize and fulfil the needs and desires of each character.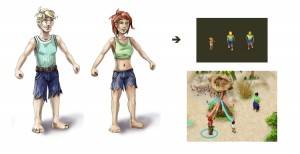 "
The Islanders can talk and flirt, comfort each other, betray and quarrel,
" explains Kathleen Kunze, game designer of Lagoonia. "
In addition to various behaviors, they differ in outward appearance and age. Later, players can even create Lagoonia "island diplomacy", by visiting the islands of other players and building relationships,
"says Kunze.
---